Here are some popular means of packing up your book to go in medieval times, including the precursor of our modern tablet sleeve. Medieval readers had additional storing options: slipping the book into a box, bag or wrapper. Unfortunately, few of these exotic – and fascinating – storage devices survive today. I used this particular girdle book in The Grotto's Secret.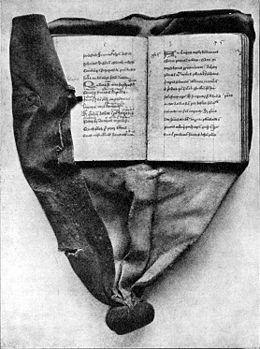 An open girdle book. Note the tied knot used for easy holding and the relatively small size of the book itself. This girdle book gave me the perfect hiding place for a secret map. 
There's lots more behind the scenes secret info in The Grotto's Secret Gallery. When you read the book and find out what else goes on here, drop me a line and I will include a picture of you and your book on my readers board!